End of Season Meal
17th June 2019
Blackburn Music Society celebrated the end of another very successful and enjoyable if demanding season with a meal at Tiggis Ribble Valley.
Sing Together 10th Anniversary Concert
13th June 2019
Blackburn Music Society joined choirs from  Lancashire primary schools, The Cathedral Choristers, Blackburn People's Choir The Renaissance Singers and Blackburn and Darwen Band in Blackburn Cathedral for the 10th Anniversary Sing Together Concert.
Weeping Willows, Fair Maids and False Love
9th June 2019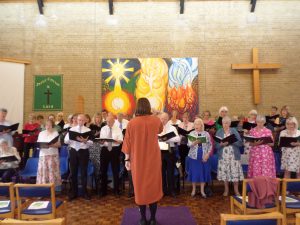 We may have learned them at school, the folk songs of old – perhaps our first memories of singing together. We hear them so rarely now that the surge of nostalgia might take us quite unawares.  Our last concert of the Season was held in Wesley Hall.  Traditionally our Summer Concert is a programme of short, easy-listening pieces, we performed "The Sprig of Thyme" and others of John Rutter's delightful settings of folk songs, by turns witty, jolly and heart-rending, and Vaughan William's arrangement of Linden Lea.   They are all hugely enjoyable to sing and – we trust – to listen to.
It has become clear to our members during this Season how fortunate we are to have Abi Kitching as our Musical Director.  Not only is she an excellent teacher and conductor, but she also has a beautiful soprano voice.  Choir and audience alike were delighted to be able to listen to Abi perform a selection of songs.
…and a World Premiere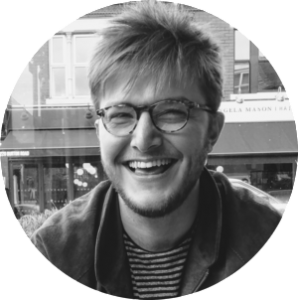 But what made this event a landmark in the musical life of the Society and of the town, is the first performance of a song, a song about Blackburn moreover, composed especially for us by Rory Wainwright Johnston – the young composer classmate and colleague of our conductor Abi Kitching. It's a setting of words by the 19th Century Blackburn poet, William Billington, a haunting and atmospheric evocation of "thick forest of tall chimneys (and) close-crammed cottages" ending with the rousing
"No place like Lancashire in this ample world
In England none like brave old Lancashire
And Blackburn …. Shall as the heart of Lancashire appear."
Mike Waters
Royal Society of St George Service
28th April 2019
The annual Saint George's Day Service, organised by the Royal Society of Saint George was held in Blackburn Cathedral.  Blackburn Music Society led the singing of hymns throughout the service and sang the hymn from Finlandia by Jean Sibelius and 'How lovely are thy dwellings' from Brahms' German Requiem.
Quiz Night
23rd April 2019
In addition to being Saint George's Day and the day we celebrate Shakespeare's birthday, 23rd April 2019 was Blackburn Music Society's Quiz Night.  Blackburn Golf Club provided an excellent venue and the quiz setters and quiz masters, Margaret and Mike, ensured that an enjoyable evening was had by all.   The pie and peas supper was also very much appreciated.
25th March 2019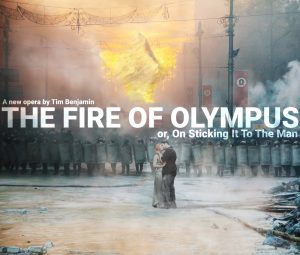 We were asked at a couple of points to sing words of our choosing at whatever pitch, volume and time that we wanted.  We proved to be extremely good at this.  If only more works demanded this particular skill-set!  Would that the Brahms Requiem allowed such self-expression!  When it was asked of us to become an ugly, vituperative mob our true genius at last flowered.  And while Zen sages may still wrestle with the sound of one hand clapping, we at least have solved the conundrum of two wrists clapping.  Landmark times then for our choir.
Composer Tim Benjamin's latest opera is a retelling of the Prometheus myth, set roughly in the Sixties.  He and colleagues took over our regular rehearsal to record us in the role of chorus and crowd in the classic Greek manner.  Our voices become a soundtrack to the live performances touring the North in the Autumn.  Before dreams of royalties and fat recording contracts have us rushing to sign up agents, it's as well to be reminded that the involvement of other singing groups will swell the Chorus to about a thousand.  A video showing the gathering of recordings for the crowd scenes is available here.
The opera's engaging young tenor Michael Jones put us through our paces with great good humour.  And along with the muttering, howling and bizarre sound effects, he required of us a song or two in orthodox style.   A thoroughly jolly event.
The premiere of The Fire of Olympus is at Burnley Mechanics on 14th September 2019.
Mike Waters
A Majestic Journey
23rd March
Our journey towards this concert began with the first rehearsal in January, when Abi assured us that we would perform the Brahms "Requiem" on 23rd March, however faint our hearts, and she continued to strengthen our commitment with every rehearsal that followed.  We duly learnt to pronounce the fearsome-looking German text and came to grips with both words and music.  In my experience, the fiendishly complex work revealed more of its difficulties with every session and it wasn't until the Singing Day in Salesbury that I began to see the work as a whole.  Throughout all of our rehearsals, Abi explained the drama of the piece and we began to grasp what she hoped we would produce.
The Concert began for us with a novel experience, that of sitting in the audience.  We listened to the brass section of Wilmslow Symphony Orchestra give a stirring rendition of two Canzonas by Gabriele and then the full orchestra, seemingly with a cast of thousands, gave an excellent performance of "The Hebrides", the much loved piece by Mendelssohn.  "Our" Abi conducted this with great aplomb, bringing out the colours of this evocative music.  After the interval, with some of us fortified by a glass of wine, we found our seats with a fair degree of apprehension.
We were all desperate to do Abi proud.  Did we succeed?  It's difficult to tell from a seat in the first altos.  All I know is that we tried our hardest.  Inevitably, there were missed entries and, I'm sure, panic showed on our faces during the really tricky sections.  Throughout it all, Abi guided us to the end of each movement with a beaming smile.  The orchestra and the soloists,  Soprano Leonie Maxwell and Baritone  James Berry sounded superb and, by the end of the final movement, we were more than ready to, and I quote, "rest from our labour".
We have, as a choir, had an amazing twelve months, spanning "Belshazzar's Feast", "The Armed Man", "Messiah" and now the Brahms. Long may the challenges continue!
Sue Dugdale
Brahms' Requiem Singing Day
2nd March 2019
It's hard to get a handle on Johannes Brahms the man. Variously described by his contemporaries as shy, prickly, loyal, shabby, generous, stingy, kind or distant, the only point of agreement seems to be that his was a very guarded personality, whose passions found expression in his music alone.
So what would it have been like to have Herr Brahms himself rehearsing us?  He'd be curt, gruff and impatient I imagine.  Himself a relentless perfectionist, I guess he'd be unsparing of us performers.  You'd get scant praise for doing it right; at best a grunt into the thicket of that commodious beard.  The forty-odd of us would no doubt have slunk home feeling disconsolate and inadequate. And even fuller, such is the way of comfort eating, of the criminally delicious cakes.
Abi, one might justly say, is unlike Brahms.  Have we ever known anyone who so vividly enacted or embodied the music?  (One can safely assume that Brahms did not trill, pirouette, bestride the stage or pluck extravagant analogies from the air).  To watch her in action is entertainment of a high order. We are lucky to have Abi. Brahms is lucky to have Abi.
Requiem-wise, we're not there yet.  It's a work replete with opportunities for disaster and we were certainly a bit ragged here and there on Saturday.  The lead changed hands quite a few times. Sometimes we crossed the line together.  Some of us – I can speak only for the tenors – were often as not thrown at the first ditch.  Everyone must have been exhausted at the finish, not least the indomitable Joy.  No danger then that the nine or ten visitors would be inhibited by our perfection. (It speaks well of our approachability and the happy atmosphere that some will be joining us in the concert).
We'll get there; Abi has charmed and chivvied us into believing that we can be the equal of any choir going.  The concert is going to be epic.  We'll shine as never before.  She won't permit anything less.
Mike Waters
The Singing Day was excellent.  It helped to put more meaning into the music.  I really think we have been blessed to have acquired Abi's expertise.  As others have done before her, I think she will lead us to new skills and musical adventures.
A big, big thank-you to Joy, Abi, kitchen staff, cake makers and all who made this a great singing day.  I personally find the intense rehearsal a tremendous help in seeing the work as a whole after weeks of "note bashing".  I am wiped out- but happy !
Madeleine Whitton
Light up a Life
10th December 2018
Hundreds of people gathered in Blackburn to commemorate their loved ones in the annual Light up a Life Christmas service hosted by East Lancashire Hospice.  In addition to leading the congregation in the singing of carols, Blackburn Music Society sang Aspiration from Edward Elgar's  "From the Bavarian Highlands" and Bob Chilcott's arrangement of Jingle Bells
Carols at Samlesbury Hall
9th December 2018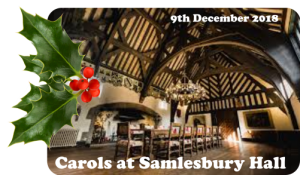 We hadn't rehearsed, it was cramped (thirty or so of us under the Minstrels' Gallery in the Great Hall), we could barely see Joy, we sang against the buzz and clatter of a restaurant in full swing and it was the happiest of events imaginable.
We sang under the genial and indulgent direction of Rory Johnston – friend and colleague of Abi.  The two dozen best-known carols in the canon.  Where we didn't know the harmonies we made them up.  Beer was smuggled into the back row. Christmas cheer abounded and in that marvellous setting one irresistibly felt heir to a tradition going back centuries.  It needed but a twinkling Mr. Pickwick, a hog on the spit and an infant to send up the chimney for Merrie England to be re-born before our very eyes .
We owe this engagement to Gill Broom.  Please may it happen again – I'd even wear period costume.
Mike Waters
Messiah by Candlelight
1st December 2018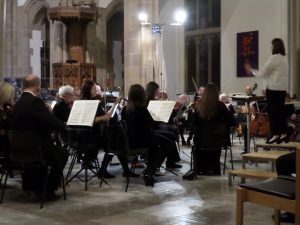 For many people of faith – and of no faith at all – the Christmas season is simply incomplete without a performance of Messiah.  Handel's masterwork remains as popular as ever in its 277 year history with hundreds of performances throughout the world every year.  Here in Blackburn, the reputation of Blackburn Music Society's annual rendition has been growing strongly in recent years, with people coming many miles to experience it – often in preference to performances nearer home.  After over 80 performances, it has become a fixture in the life of the town and a proud assertion of a great northern tradition.
This year's event in Blackburn Cathedral was particularly special, even by the standard of many noteworthy performances in the past.  The 80 strong choir was accompanied by the Northern Baroque Symphonia, led by Amanda Babbington.  They played period instruments, as close to the sound world of Handel himself as we can hope to get. The chamber organ was played by Samuel Hudson.  The soloists were Angela Hicks – soprano, Joseph Judge – counter tenor, James Hutchings – tenor and James Berry – bass.  The Society's very able and inspirational young Musical Director Abi Kitching conducted.
A great array of candles in the cathedral added to the ambience and  18th Century effect.  It was pleasing to see a near capacity audience in the cathedral for this inspiring and memorable event.
Mike Waters
Armistice Centenary Concert
10th November 2018
We can be very proud of this tribute to the fallen and its part in the climax to the town's four years of WW1 remembrance.  Karl Jenkins' "The Armed Man" is justly revered for its haunting tunes and vivid picture-painting.  It seems to respond to a deep need we have to comprehend, exorcise perhaps, the troubled history of the last century.  We gave it our all and were rewarded with an exceptionally warm response.
We share the honours with Gill Fourie and her Salesbury School choir – a very affecting performance involving giant poppies.  They also brought in a significant share of a near-capacity audience.
The Blackburn and Darwen Band accompanied us.  It's somewhat disconcerting to work with a brass band.  After the intensity and duration of our own rehearsals, their seeming nonchalance just hours before the show is disconcerting.  My neighbour Peter, noting the staggered arrival of bandsmen at rehearsal, was moved to wonder if they were a sort of flash mob.  Of course they rose splendidly to the occasion as they inevitably do.  Hearing their Finlandia at very close quarters is never to be forgotten.
The Armed Man calls for two soloists. Rebecca Barry, a recent Royal Northern College of Music graduate. Her rendition of the sombre Kyrie was riveting.
This was Abi Kitching's first outing as our leader, the first, it is devoutly to be wished, of many.  We dare to think that our performance rewarded the fervour and intensity she has brought to the choir.  One senses we have exciting times ahead.
Mike Waters
Radio Lancashire Interview
8th October 2018
Click here to listen to Abi and John talking about Blackburn Music Society's forthcoming events.
New Season, New People
3rd September 2018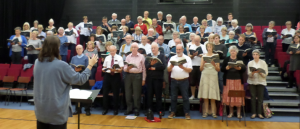 We were pleased to welcome our new Musical Director Abi Kitching and several new choir members as we began rehearsals of 'The Armed Man', Karl Jenkins' inspirational anti-war composition, which looks forward in hope to the future.  The dramatic music, with lyrics drawn from many parts of the world and from diverse religions and cultures makes this a work that everyone will enjoy learning and performing at the Remembrance Day concert on 10th November.
Welcome to Abigail Kitching
1st September 2018
At the beginning of this 2018-19 season we extend our congratulations and a warm welcome to Abigail Kitching, Blackburn Music Society's newly appointed Musical Director.
Abi impressed us all with her passion for choral conducting and her ability to bring the music to life in well-planned, exciting rehearsals. We have some fantastic concerts in prospect.
Welcome Abi – we are all raring to go!
                                                                      Joy Fielding (BMS Chair)