New Vocal Coach
2nd September 2019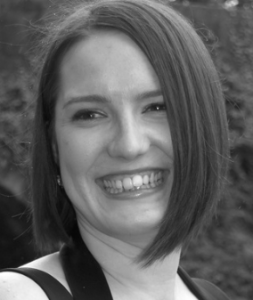 We are very pleased to welcome our new Vocal Coach Jennifer Rust. She will be working with the whole choir and with smaller groups during this season. Jennifer read music at the University of Hull and studied performance at the Royal Scottish Academy of Music and Drama. In 2012 she graduated from the Royal Northern College of Music with a distinction for her Master's degree.
Jennifer is a freelance soprano who frequently performs solo recitals across venues in the UK covering a range of operas and oratorios. In addition she regularly performs for the charity Music in Hospitals and Lost Chord, taking live music into care and dementia homes.
New BMS Chair
14th October 2019
At the Annual General Meeting Gill Broom was elected as the new Chair of BMS. The retiring Chair, Joy Fielding, was thanked for the invaluable contribution she had made to the Society during the six years she served as Chair and was presented with a leather bound copy of the Messiah score.
Mozart Requiem Singing Day
26th October 2019
In preparation for our Mozart concert in November Abi Kitching led an open singing day in Wesley Hall. Practice sessions were interspersed with ample opportunities to enjoy the home made cakes provided by BMS members. As always there was a relaxed and friendly atmosphere and visitors and members all agreed that it was a most enjoyable and worthwhile event.
An Evening with Mozart
9th November 2019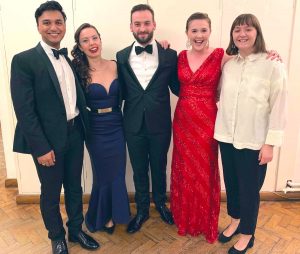 Vienna 1791. Mozart on his deathbed, a mere 37 years of age, convinced, the story goes, that a rival is trying to murder him, racing against time to complete a requiem mass commissioned in secrecy by an anonymous stranger – the figure of death in his fever-wracked imagination. A pauper's funeral awaits. Such are the myths, untruths and half-truths that surround the Motzart Requiem, most of which find a place in the utterly wonderful – and utterly unreliable – film "Amadeus".
The truth may be less colourful but what is undeniable is that Mozart is a phenomenon and his Requiem a work of unsurpassed genius. It was the climax of our all-Mozart concert in Blackburn Cathedral. The BMS Concert Orchestra began with the much-loved Eine Kleine Nachtmusik and accompanied the choir singing the beautiful Laudate Dominum before the Requiem itself.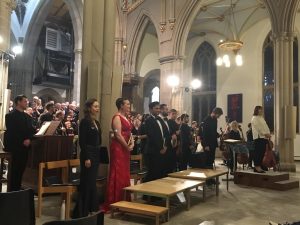 Gill Broome, The Choir's new Chair said "There can't be a classical choir in the world that hasn't sung or aspires to sing the Mozart Requiem – It's among the most moving and joyful experiences a singer can have. Our Society has performed it several times in our eighty-year history and thanks to the inspirational leadership of our conductor Abi Kitching, we dare to think that the quality of our singing and our professionalism have never been higher".
Messiah en Baroque
7th December 2019
For Blackburn Music Society the annual performance of Handel's Messiah is always a special occasion and the opportunity to sing with the Northerner Baroque Orchestra, made this a particularly memorable event. The soloists were Soprano – Daniella Sichari, Alto – Kate Aitchison, Tenor – Daniel Joy and Bass – Peter Brooks and the conductor was Abi Kitching. Audience members commented on the "accomplished" and "scintillating" performance the "stunning" soloists and the "splendid" orchestra.
Christmas Music
28th November 2019
Pleasington Priory is a venue that we have enjoyed using for a number of years, and we were pleased to be able to support the Christmas Tree Festival held by the parish as part of their 200th anniversary celebrations. Accompanied by our pianist Joy Fielding, and conducted by our Musical Director Abi Kitching the choir sang a selection of Christmas carols and songs and had a very enjoyable evening.
14th December 2019
To bring our 2019 activities to a fitting close, a group of our singers gathered round the piano in Blackburn market on Saturday morning to provide a festive atmosphere for shoppers.
Masters of Melody
15th March 2019
It was a very sad and difficult decision, but with increasingly worrying news about the spread of Covid-19, the Masters of Melody concert due to be held at Queen Elizabeth's Grammar School in Blackburn on Saturday 21st March had to be cancelled.
The planned concert, conducted by Abi Kitching and accompanied by pianist Tim Kennedy and organist Tomek Pieczora included Rossini's Petite Messe Solennelle and Fauré's Cantique de Jean Racine. The soloists were Soprano – Rachel Abbott, Alto – Emma Roberts, Tenor – Zahid Siddiqui and Bass – Thomas D. Hopkinson. It is hoped that we will be able to perform this same concert at some time in the future.
Rehearsals are Back!
6th April 2020
A few weeks ago few people knew anything about group video communications but then we all heard about Zoom. For some perhaps a bit daunting at first, but thanks to Abi, accompanied by Pip on piano, we were able to resume Monday night rehearsals on PCs, laptops, tablets and smartphones in our own homes. The technology was a bit daunting for some at first but we managed. The choice of music was of necessity a little different – 'Lean on Me', 'Amazing Grace' and 'Peace White Dove'. The 40 minute session was a new learning experience for everyone but was an encouraging way forward at a time when normal rehearsals seem some time away.
BMS Zoom Quiz Night
17th July 2020
The participants in this year's quiz answer the questions from the comfort of their living rooms. Margaret Crane and Mike Waters led a fun-filled evening of questions focusing on chocolate, authors, poetry and surnames, all delivered with the mastery of the greatest quizmasters and the overcoming of a few Zoom technicalities. The wealth of knowledge from participants was awe inspiring – from a rendition of the 'Ballad of Eskimo Nell' to knowing how many calories a Ferrero Rocher contains. Revising starts now for next year's event, many thanks to Margaret and Mike for organising the evening.