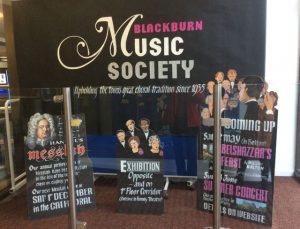 Have you visited the BMS Archive Exhibition yet? If not, read on to see what you're missing…
Swathed in my woolly hat and piano scarf, I blew in to see our Archive exhibition yesterday. I stayed for ages, enthralled by the material, especially from times before I joined BMS nearly 60 years ago.
How marvellous to see how, over our history, people have had the confidence to strive for the heights of achievement to the point where such renowned conductors and soloists were happy to bring their talents out of the  major cities and sing with an amateur choir from a Lancashire cotton town. I was amazed to see the correspondence with the great Paul Robeson, whom I so wanted to hear.
Mike's stunning display in the foyer really hits the spot in its interest and humour. Thank you, Mike, and thank you to Margaret and her dedicated team who must have devoted endless hours in the presentation of this wonderful exhibition. We must talk to our friends and encourage them or accompany them to enjoy this fabulous portrayal of an enduring part of the history of Blackburn.
Live for ever, BMS! 
MW
The Archive Exhibition continues at Blackburn Library until February 28th.  Mike Waters' marvellous art-work can be seen on either side of the entrance to the Library and you will find material on the history of the choir on the first floor outside the Hornby Theatre.
The complete archive is on permanent loan to the library and it should be possible to access items on request.