Click here to listen to Abi and John talking about Blackburn Music Society's forthcoming events.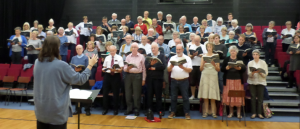 We were pleased to welcome our new Musical Director Abi Kitching and several new choir members as we began rehearsals of 'The Armed Man', Karl Jenkins' inspirational anti-war composition, which looks forward in hope to the future.  The dramatic music, with lyrics drawn from many parts of the world and from diverse religions and cultures makes this a work that everyone will enjoy learning and performing at the Remembrance Day concert on 10th November.
At the beginning of this 2018-19 season we extend our congratulations and a warm welcome to Abigail Kitching, Blackburn Music Society's newly appointed Musical Director.
Abi impressed us all with her passion for choral conducting and her ability to bring the music to life in well-planned, exciting rehearsals. We have some fantastic concerts in prospect.
Welcome Abi – we are all raring to go!                                                                                                   Joy Fielding