Sad News (July 2012)
It was with great sadness that the Society received the news that one of its longest serving members, Connie Haworth, had passed away after a heart attack on 4th July. Connie had only recently retired from the Society after a lifetime's involvement. She will be remembered as a most kind and friendly member of the soprano section, who was immensely loyal. Members of her calibre and commitment are rare these days and she will be hugely missed. Our sympathies are extended to her family, who have been devoted attendees at our concerts for many years. We must also express our gratitude to them that they have so kindly determined that as a final tribute to her love for the choir, all funeral donations should be made in our favour.
Plans for the Future (June 2012)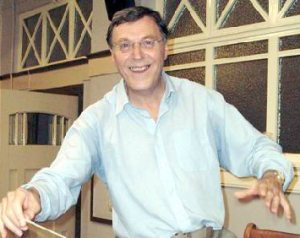 The choir is delighted that Michael Greenhalgh, the Musical Director of Bolton Choral Union, has agreed to conduct our November concert and that Samuel Hudson, Director of Music at Blackburn Cathedral, will conduct this year's Gala performance of Handel's Messiah. Tom Newall will take over as Musical Director in January 2013. Young, hyper-enthusiastic and dynamic, Tom comes with the highest credentials and the society is already looking forward to a bright new future!
Farewell to James (June 2012)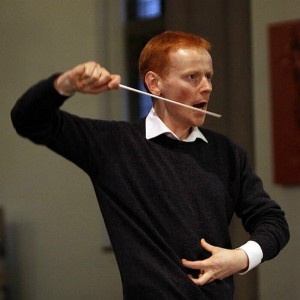 It was with a mixture of sadness and celebration that we said our goodbyes after five years of music making at our rehearsal on 11th June. Old trooper that he is, James had managed to recover enough from his recent illness to make the last rehearsal of the season and to make it one to remember, with the choir singing lustily through Miss Saigon, West Side Story and "I Won't Dance!" In case he misses us he'll have something to remind him of his happy music making with us – namely a splendid painting of the Cathedral with James in the foreground and a couple of choristers scampering behind, no doubt to check up on a dodgy note! This was done by one of our members, the remarkably talented Mike Waters, who sadly couldn't be there for the handover. James also received a gift token for John Lewis with which to start furnishing his new home, and a bottle of bubbly. We all wish him every success in his new job, and extend best wishes to both Sarah and James in their new lives together down in Chelmsford.
Spring Concert (April 2012)
This took place on 21st April in Blackburn Cathedral. As this was the Queen's Diamond Jubilee year, the choir kicked off with a most rousing rendition of God Save the Queen, arranged by Benjamin Britten, which according to James is the version her Majesty prefers! This was followed by the lovely and refreshingly new (to the choir) Mass in D by Dvorak, with soloists from the RNCM singing in delightful consort. A short interval was followed by that lovely favourite, Faure's Requiem, which was dedicated to the memory of Bill Smith, a life-long follower of BMS whose wife, Stella, sang with us for many years.  This was a most moving and successful performance; probably our best rendition of the work to date, and a fitting tribute. Equally fitting, but for different reasons, was the splendid spontaneous standing ovation that took place as a mark of gratitude to James, for whom this was the last concert before moving on to Chelmsford. His tenure, although short, has been a most happy and successful one, and it is noticeable how much the choir has grown, and is growing! No wonder the evening ended with a rousing "For he's a jolly good fellow!"
Come and Sing Christmas (December 2011)
This year our schedule allowed us to dedicate two rehearsals entirely to Christmas music- secular and sacred without the pressure of an immediate concert.  The opportunity for family and friends to attend was taken up by quite a number, though whether it was the prospect of free mince pies or some friendly carols singing that drew them we have yet to determine!  Either way, the final rehearsal of the year was marked by a great Jacob's join, with a fine selection of festive fayre and even some seasonal revelry!
Best Messiah Ever? (December 2011)
One has to add the question mark just in case, but this year's performance of this perennial favourite was distinguished in so many ways, not least by fabulous soloists and orchestral playing, to say nothing of a well-balanced and harmonious choir! Many people commented on how much they had enjoyed the event and it will be a difficult act to top. But top it we will; the coming year's Messiah on 8th December will feature a terrific line-up of soloists and the orchestra are already thrilled at the prospect of something so special as the Kathleen Ferrier Society collaboration. Bring it on!
Bold New Ventures! (November 2011)
Building on our most enjoyable and productive collaboration over at the Victoria Hall, Bolton, with Bolton Choral Union in March 2010 and again in November 2011, the choir is thrilled to now be in a position to return the invitation. We are delighted to announce that after an absence of many years, the choir will be performing alongside Bolton Choral Union in King George's Hall, Blackburn in November 2012. This will be a show-stopping programme of Hollywood and Broadway favourites, accompanied by the ever-popular Blackburn with Darwen Brass Band. The hall will be specially re-arranged in the stalls area for this event, and we are most excited at the new possibilities opened up by the Hall and a new layout, which we hope will allow for a greater number of performers but in a more intimate setting to the usual, rather formal arrangement.
Armed Man Sensation (November 2011)
Our concert over in Bolton in November was, by all accounts, an even bigger success than our debut concert there, 18 months ago.  Both the Rutter "Gloria" and Jenkins' "Armed Man" were eminently suitable for airing with brass band in the more forgiving acoustic of the Victoria Hall and even our soloist commented on the fact that the concert was one of her all-time highlights, never to be forgotten.  The war songs that were so sensitively arranged by James, proved a huge hit and provided the perfect foil for the rest of the programme.  Choirs, soloist, conductors and band all excelled themselves in bringing our standard of performance to a whole new level, and nobody can fail to have been moved, to tears even, for all the right reasons! The collaboration bodes extremely well for our November re-match next year in King George's Hall.