LOOKING FORWARD TO THE NEW SEASON  2016/2017
We have a marvellous line-up of concerts ahead of us this season, starting with two beautiful but very different pieces, Duruflé's Requiem and the Puccini's Messa di Gloria.
In his Requiem, completed in 1947, Duruflé creates a gentler and more meditative composition than some other settings by omitting the 'Dies Irae' and drawing on the Gregorian 'Mass for the Dead'.
By contrast, Puccini's Messa di Gloria betrays the composer's admiration for Verdi in his use of soaring operatic tunes and dramatic changes of mood.
To complete the programme, the semichorus will perform Duruflé's Motets, an ideal complement to the Requiem as they are also based on Gregorian chants.
Later this autumn we will be performing our annual Messiah and then it's full steam ahead for the challenge of Elgar's Dream of Gerontius.
For choir and audience alike it promises to be an exciting year!
OPEN REHEARSAL: ALL WELCOME!    September 12th  2016
Puccini's Messa di Gloria is great fun to sing and on Monday 12th September we are holding an Open Rehearsal, which anyone is welcome to join. If you are a BMS member and have singing friends, bring them along. If you are not a member, but would like a taste of what it's like to sing with us, this is the perfect opportunity.
The rehearsal starts at 7.15 at the O'Neill Academy for Performing Arts, St Mary's College, Shear Brow, Blackburn BB1 8BX Access details here.
The score will be provided and it's FREE!
REMEMBERING GEOFFREY TAYLOR  September 6th 2016
We are sad to report the death of Geoffrey Taylor on August 8th in a road accident. Geoffrey was a member of BMS for over forty years, from the early 60s until 2006. Members who knew Geoffrey will remember him with great fondness, as the following tributes testify.
"Morning, Geoffrey. How are you?"
"Hello there. Have you got a minute?"
This was the opening gambit on the many occasions when I stopped to chat with Geoffrey on the Lane. Invariably, the minute lasted for an hour or more as we chatted about events, old times and music. He recently gave me a lift home from 'Creation' in the cathedral, where he had been a chorister. He was so proud to play for me the recording that Sam Hudson had recently made of a hymn tune that Geoffrey had written. Maybe it will find its way to Evensong sometime.
As well as being my neighbour, I used to sing beside him in earlier days of BMS. He once quipped, " That was a decent top G!" to which I responded. "Well, you were standing on my foot!" Then we continued with the job in hand.
Musician, Storyteller and Friend. Goodbye Geoffrey.
Madeline Whitton
"Geoff was my friend for roughly 25 years. We used to chat after rehearsals and he discovered I had always sung in a church choir since being quite young, so he persuaded me to join St. Silas choir where he was organist and that lasted for a good number of years.  We used to go to the Bridgewater for concerts, usually piano concertos or big orchestral works which we loved – seeing Evgeny Kissin perform Rach 2 was a real highlight for both of us. He was a really kind man, always ready to help someone if they needed anything, especially if he could get it online cheaper!!
Music was his life as those of you who knew him will know. He said to me about a year ago whilst we were having a 'brew' and a chinwag, "Do you know my dear, if I shuffled off this mortal coil tomorrow, I've had a wonderful life, a life full of good friends and music, wonderful music".
I shall miss him greatly, the lovely man that was Geoffrey.
Margaret Carter
JOHN DAVID October 12th 2016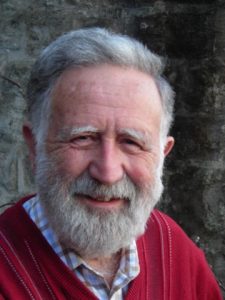 It is with great sadness that we learn of the death on October 3rd of John David, who lately, together with his wife Judith, had sang with us for a couple of seasons.
A resident of Fence since the 1980s, John was active in the local community and had many interests.
He ran his electroplating business, East Lancashire Platers, for 30 years before retiring.
He was a Liberal and Liberal Democrat member of Pendle Borough Council for 28 years and last year Pendle Council made John a Freeman of the Borough in recognition of his service to people in Pendle. He was also involved in the Heritage Trust for the North West, the local Citizens' Advice Bureau and Mid-Pennine Arts.
John loved tending his vegetable patch and in later life he turned his hand to crafts and enjoyed weaving and wood turning.
He never forgot his Welsh roots and music was a lifelong passion – he took up the cello as an adult and had a fine bass voice. He chaired Burnley Orchestra and Choir for 30 years and even formed a home-based string quartet, the Hoarstones Ensemble. Many local people will remember their famous "family and friends" rendering of Messiah at Christmas.
John did not sing with us for long but we will remember him for his kindness and his enthusiastic support for BMS. Our thoughts are with Judith and the family.
AUTUMN CONCERT 19th November 2016
At Saturday's concert it was a delight to hear unfamiliar music delivered with the choir's familiar clarity, energy and obvious enjoyment.
The opening Quatre Motets by Duruflé showed the semi-chorus at its best, with a fine contrast between the delicate 'Tota pulchra es' and the rousing 'Tu est Petrus'.
The motets then threw into relief the Puccini Messa di Gloria, by turns playful, joyful and – particularly the 'Adoramus Te' – intense; the stunning fugue in the 'Cum sancto spiritu' seemed effortless but inspiring. I could have wished myself on the other side of the conductor's baton.
And then after the interval the Duruflé Requiem. What a wonderful flow it had. I was chasing musical motifs throughout: in the plainsong, the uplifting chorale in the 'Kyrie', and through the expressive word painting, for example the dramatic 'de ore leonis' in which I felt as if the lion was after me but not quite catching me this time.
For me the 'Pie Jesu' stood out as a jewel of beseeching, with the poignant cello and mezzo-soprano solo set among the Requiem drama at this Remembrance time of the year, the whole performance complemented by the organist and fine soloists.
Certainly an event which left me wanting more and checking the diary for the next BMS concert.
E. Dixon
SHIRLEY PARKER  December 5th 2016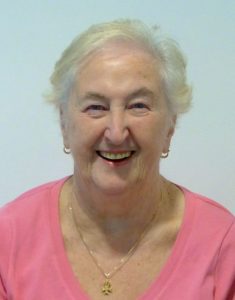 We have been shocked and saddened to hear of the death of Shirley Parker who died in her sleep on Wednesday 16th November. While Shirley's recent chest infection meant she had not been planning to sing in Duruflé's Requiem she was intending to be present at the afternoon rehearsal to be in the choir photograph and to listen to the music. She was also looking forward to singing in what would have been her 62nd Messiah with BMS. Saturday's performance of Messiah was dedicated to her.
Shirley loved being in the choir and said recently:
'When you've had a hard day, especially in winter, you think, I don't want to go out in the cold. But you go home so uplifted by the music you're glad you came.'
Many BMS members will be feeling that they have lost a dear friend. Shirley's vitality, sense of fun and warmth will be much missed.
MESSIAH December 3rd 2016
Suffice to say that by the end of this sparkling performance, in the highly atmospheric setting of Blackburn Cathedral, I could easily have believed myself to be in the Festival Hall on the South Bank. What a splendid evening!
Messiah is a work known to almost anyone with an interest in choral music and it can be a challenge to bring to a performance of this mammoth score something new. A pool of genuine Northern talent, under the baton of BMS conductor Tom Newall, offered the large audience not only a fresh and invigorating journey through the familiar narrative but engaged them in the drama.
Compared to many performances I have attended (and even performed in) several of the tempi set by Newall were fairly brisk but, despite some apprehension, I ended up being wholly persuaded by them and found the energetic pace offered a refreshing perspective on well-known choruses. These were mirrored by equally bright arias from the four outstanding soloists. The ornamentation in the da capo arias, delivered with absolute crispness by Blackburn's own soprano Jennie Marsden, was perfectly enchanting. Emma Stannard, from the Royal Academy Opera, delivered the contralto arias with incredible power and energy as to be wholly convincing and compelling.
From the very first notes of the tenor's opening aria, 'Ev'ry valley', it was apparent that Alexander Grainger (from RNCM) brought with him the clarity of a young voice with its freshness and agility. Grainger faced some stiff competition in claiming his place on stage from the very colourful Louis Hurst whose bass arias communicated every last drop of theatre available. Hurst's resonant tones in 'Darkness shall cover the earth' were both haunting and deeply moving and left the audience willing the drama and the return of light.
The BMS chorus had high expectations placed on them by both conductor and orchestra and needed to match the vivacity of the soloists to hold their own, which they did with complete confidence. Diction was crisp and precise throughout and it seemed that every quaver and semi-quaver run was executed in complete consonance. Chorus members looked as though they were enjoying the sing and this certainly added to the success of the evening's performance.
The Lancashire Chamber Orchestra, once again, worked hard to achieve the impression that the whole ensemble, chorus, soloists and instrumentalists were one complete unit. The continuo was suitably subtle to allow recitative to move the narrative forward and the ensemble bold enough to add compelling punctuation to both arias and choruses.
This was a triumph of performance which left me buzzing with excitement and exhausted by emotion.
David Stephenson
This performance was dedicated to Shirley Parker.
LIGHT UP A LIFE December 12th 2016
Once again a large number of our members took part in the annual East Lancashire Hospice Light up a Life Service at Blackburn Cathedral.
Conducted by Tom Newall and accompanied by Sam Hudson, we supported the congregational carols and, during the moving lighting of candles and the Christmas trees, we sang Morten Lauridsen's uplifting O Magnum Mysterium.
A charming choir from Salesbury CE Primary School, directed by Gill Fourie and accompanied by Stephen Bird and Andrew Kellington on percussion, received a well-deserved round of applause for their contribution – a musical rendering of two carols from memory.
We always feel privileged to be able to support the Hospice which offers such amazing palliative care and it is a joy to participate in such a poignant service which expresses so much of the true spirit of Christmas.
TWO VIVACIOUS VISITORS   January 16th 2017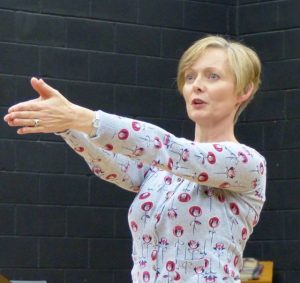 This week the choir were treated to a change of routine.
First we had an illuminating session with Joyce Tindsley. Joyce, a professional singer who was a soloist in our 2014 Messiah, is also an experienced vocal coach and she led us through a series of exercises to help us develop our voices. She showed us how to breathe and stand properly – in what is known as 'noble posture' – and how to project our voices forward. We also practised our diction.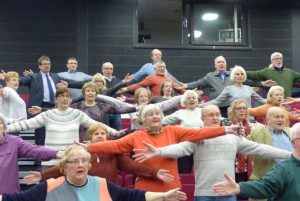 Joyce's tuition was very clear and easy to follow and she came out with some delightful turns of phrase: in showing us how a singer can produce subtle differences in sound, she said, 'Your voice is like a paint-box' and later, explaining how it was easier to sing vowel sounds if one rests the tips of the tongue against one's teeth, she said: 'Your tongue is a wriggle-monkey.'
After a very enjoyable training session, not only had our vocal muscles had a good work-out, but we were all standing much taller!
This stood us in good stead as our next guest, Helen Harrison, arrived to take the rehearsal for Tom who had another engagement. Helen had not met the choir before but, as a former student at St Mary's College, for her it was a return to a familiar place which, she said, made the evening extra special.
Helen established an immediate rapport with the choir and took us through an exacting, but stimulating, rehearsal of Gerontius. It was fun, particularly when Helen encouraged us to express our inner demons!
Our thanks to Joyce and Helen, not just for helping us to make progress in our singing, but also for making it such an enjoyable evening.
DEREK HARTLEY  February 21st 2017
We were very sad to hear that Derek Hartley has died of cancer. A loyal and committed member of the bass section, Derek will be remembered for his cheeriness and his outgoing, friendly manner – newcomers to BMS were always made to feel welcome, and he will be missed by all who knew him and sang with him.
GERONTIUS WORKSHOP WITH PAUL SPICER  February 25th 2017
On Saturday morning 66 BMS Members and 20 visitors assembled in the Croston Theatre at Westholme School eager to participate in a day's workshop with the renowned Paul Spicer. We were hoping that Paul's expertise and knowledge of British choral music would improve our up-coming performance of Elgar's Gerontius and we were not disappointed.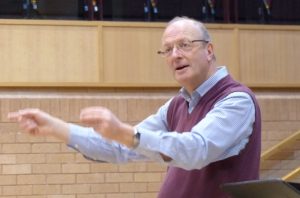 Paul provided many tips to develop our singing technique including the importance of relaxing the jaw to create space in the voice – particularly useful when singing high notes. He encouraged us to sing through vowels to create 'a river of sound' and he pointed out that a crescendo was not just an increase in volume, but also in tone. He stressed that, since the words were crucial to the impact of a choral work, clarity of diction was vital. This is especially true in Gerontius with its marvellous words by Cardinal John Henry Newman and Paul exhorted us to sing out: 'Sing as if you are singing a solo.'
In taking us through Gerontius, Paul focused on parts of the work, going for a close look at specific sections rather than aiming to cover the whole piece. He kept us on our toes, trying to get us to observe all the detailed markings in the score; it was demanding, but at times exhilarating, as we strove to express the drama of Elgar's great masterpiece. His approach – focussing 'on the nitty-gritty' as one singer put it – went down well with many of the participants. 'Paul is excellent – he knows what he's doing and he makes you feel secure.'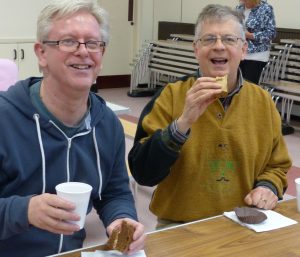 Our sense of security was enhanced by Joy's accompaniment; her command of the keyboard as she performed the fiendishly difficult piano score was brilliant and she deserves our thanks. As do Caroline Scholey, who organised the workshop, the Committee and other helpers who contributed to the smooth running of the day. Finally mention must be made of the extensive array of cakes provided by Members and much appreciated by all participants!
All in all, it was a wonderful way to spend a wet Saturday and by the end of it many people felt that it had been thoroughly worthwhile. I'm sure no one would disagree with the singer who said: 'It's taken us to a new level.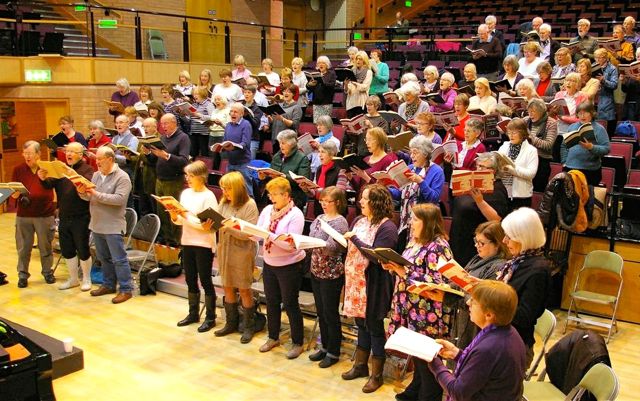 AN UPLIFTING EXPERIENCE FOR BMS  March 18th  2017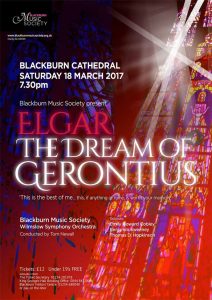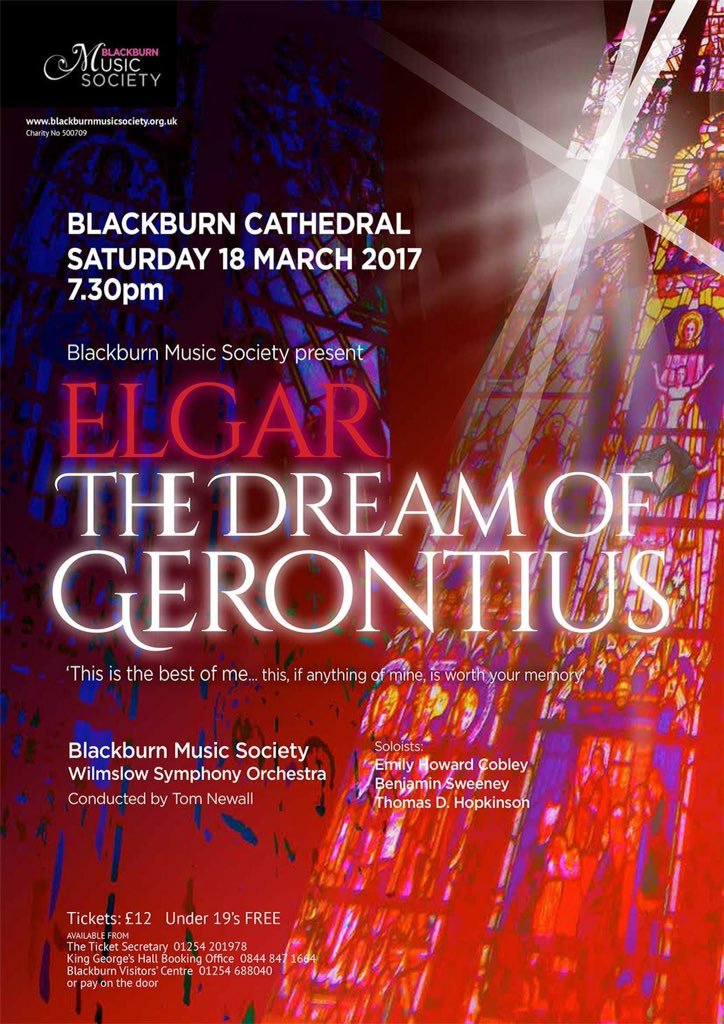 The last time BMS performed Elgar's The Dream of Gerontius was in 1998 under the baton of James Eastham, who conducted the choir from 1977 to 2007.
Saturday night's performance of this much-loved piece has been long in the planning and the choir was very grateful to receive donations towards it from Geoffrey Taylor, in memory of James Eastham and from Valerie Eastham, in memory of Geoffrey himself, who sadly did not live to hear it.
The concert was further supported by our conductor, Tom Newall, who raised over £1000 towards it by running the Blackpool Half Marathon two years ago and it was dedicated to the memory of Kath Cross, 1945-2014, who left the choir a generous bequest.
For those of us taking part, it was an unforgettable experience and a privilege to sing with such accomplished soloists, contralto Emily Howard Cobley, tenor Benjamin Sweeney and bass Thomas D. Hopkinson, the magnificent Wilmslow Symphony Orchestra and not forgetting our friend on the organ, Sam Hudson.
'Even though it was the fifth time I've sung it, it was wonderful.' Jean
'The hardest thing I've sung with the choir so far, but it was very rewarding, absolutely brilliant!' Pete
'It was wonderful, magnificent and a great credit to Tom.' Madeline
'It was magic.' Chris
'One had known fear…but it was all triumphantly dispelled on the night.' Mike
'The Dream was my dream. I haven't stopped smiling.' Madeline
'It was absolutely out of this world…extraordinary…beyond words….' Margaret
Last words from our amazing conductor Tom:
'Gerontius is a piece that I grew up with as a singer, and having performed it numerous times have always wanted to conduct it. I hope I'll be lucky enough to do it many more times, but I will never forget this very first one….tonight was special.'
THE DREAM OF GERONTIUS March 18th 2017
Edward Elgar's Oratorio The Dream of Gerontius with its near-Wagnerian score places great demands on soloists, choirs and orchestra. First performed in 1900 it remains the most popular of Elgar's choral works and is among the most frequently performed of all his work.
Set to text from the poem by Cardinal John Henry Newman, the oratorio tells of the journey of a devout man's soul through death (Gerontius = 'old man') to final judgement. It is a work that demands soloists with operatic muscle, coupled with the clearest of diction to enable the meaning of the words to be appreciated by the audience.
For this performance the soloists were Emily Howard Cobley – Mezzo Soprano (Angel); Benjamin Sweeney – Tenor (Gerontius); Thomas D Hopkinson – Bass (Priest & Angel of the Agony). The semi-chorus was drawn from members of the Society with Wilmslow Symphony Orchestra and Organist Samuel Hudson. The work was conducted by the choir's Musical Director – Tom Newall.
The performance begins with a long orchestral prelude which introduces the recurring themes of Judgement, Fear, Prayer, Sleep and Despair. This scene is set by Gerontius –'Jesu, Maria – I am near to death…' followed by the mystical sound of the semi-chorus which appeared to float from a distance, despite their location in the centre of the choir. At this early stage, the audience was fully engaged.
The Dream has some especially dramatic moments. Gerontius' death is marked with some powerful and violent music, rising to a crescendo at the Priest's words: 'Go in the name of Angels and Archangels', as the choir joins in before the end of the first Part.
The soul's journey in the second part is guided by the Angel. They encounter the demons who sing a loud and mocking fugue intensified by sarcastic laughter (a chance for the choir to depart from their usual balanced sound !). The work reaches its peak when Gerontius enters the House of Judgement. His soul's impassioned plea to be taken to Purgatory is helped by an ear-shattering burst from the orchestra.
However, what really stays in the memory are the great angelic chorus of praise, the familiar 'Praise to the holiest' and the final aria for the Angel and Chorus, 'Softly and gently'.
If only the soloists had been seated in front of their platform. Their long approach distracted many. Despite that this was a deeply moving performance under the inspirational leadership of Tom Newall, where soloists, choir and orchestra combined to produce an evening that will stay in our memories. I saw several members of the audience who were moved to tears.
Geoff Oldham
ROYAL SOCIETY OF ST GEORGE SERVICE April 23rd 2017
On Sunday afternoon, April 23rd, 32 BMS Members led the singing in the annual St. George's Day Service in Blackburn Cathedral. Under the direction of our conductor Tom Newall and accompanied by Joy Fielding, the choir also sang John Rutter's 'For the beauty of the earth' and Karl Jenkins' 'Benedictus' from The Armed Man.
The service, which was attended by the Mayor and Mayoress of Blackburn with Darwen, The Blackburn and East Lancashire branch of the Royal Society of St George and Blackburn Scout Groups, was conducted by the new Dean of Blackburn, The Very Reverend Peter Howell-Jones. Samuel Hudson accompanied the congregational singing on the organ and the Salvation Army Band also performed.
BMS are glad to support such an important event in the town's calendar.
SUMMER GALA CONCERT JUNE 11th 2017

On a showery Sunday afternoon BMS were proud to open a programme of summer events organised by East Lancashire Hospice. The concert took place in a splendid marquee in the grounds of the hospice and despite the drizzle, every seat was occupied.
The choir, conducted by Tom Newall and ably accompanied by Joy Fielding, presented a mixed programme, beginning with a medley of popular songs from musicals, Breezing Down Broadway. This went with a swing – the choir was clearly enjoying themselves and from their smiles, so was the audience.
A change of mood was signalled by 'Va Pensiero' from Verdi's Nabucco, which the choir sang with conviction in impressive Italian accents. After that came the rousing 'March of the Toreadors' from Bizet's Carmen, followed by the more reflective 'Benedictus' from Karl Jenkins' The Armed Man. Both in this and 'Ave Verum' the sustained long lines were beautiful.
A medley from Alan Meken's Beauty and the Beast was performed with panache and the first half finished with 'Over the Rainbow'.
There followed the interval where everyone headed for the table packed with delicious-looking cakes provided by the choir. And fittingly, the sun came out and people were able to enjoy their refreshments in the lovely garden.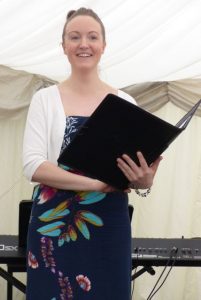 The second half began with 'Laughing Song' from Strauss's Die Fledermaus in which BMS member Laura Lenaughan's performance of Adele's aria was superbly expressive – she inhabited the role perfectly. Rutter's 'For the Beauty of the Earth' came next followed by a spririted rendering of 'Sit Down You're Rockin' the Boat' from Guys and Dolls, in which the choir's delivery of the catchy rhythm got the audience's feet tapping.
Choir member Tom Young then gave us Ireland's 'Sea Fever' and German's rousing 'Yeomen of England' in his fine bass voice and the concert finished on another note of hope with the choir singing 'Climb Every Mountain' from The Sound of Music.
It is not easy to carry off such a mixed programme with its changes of style and mood, but BMS managed it well for the most part and their enjoyment clearly communicated itself. Some of the audience, who were there to support the Hospice as much as anything, had not heard the choir before, but their comments showed that they had clearly appreciated the music: 'Lovely', 'Beautiful', 'I really enjoyed it'.
As well as providing an excellent afternoon's entertainment, BMS were very glad to be supporting such vital work, donating all proceeds to the East Lancashire Hospice's funds.
Although it has to be said that not every member of the audience found the music stimulating!
BLACKBURN FESTIVAL OF VOICE    June 22nd 2017
For the its last performance of the season, BMS took part in the Festival of Voice at King George's Hall. This joyous extravaganza, which brought together various choirs in the region and the Blackburn and Darwen Brass Band, was attended by a large and enthusiastic audience.
Each group performed on its own, interspersed with songs sung by all choirs together, including 'Mambo Italiano', 'Let No-one Steal Your Dreams' (with British Sign Language) and 'You're Not Alone' . The Blackburn People's Choir's a cappella rendition of 'One Day Like This' and 'Here comes the Sun' was impressive, The Renaissance Singers and Cathedral Choristers revealed their talent and precision in 'Like A Singing Bird' by Bob Chilcott and the Blackburn and Darwen Brass Band's superb and lively performances of 'Breezing down Broadway' and 'Helter-Skelter' had everyone tapping their feet and some singers even joining in! Their outstanding xylophone player held listeners spellbound.
Our contribution, conducted by our own Tom Newall and accompanied, of course, by Joy Fielding, was Verdi's 'Va Pensiero' from Nabucco and Mozart's 'Ave Verum' from memory, which for some of the choir was a very special moment.
The ten Sing Together Schools choirs were amazing, the youngsters' excitement palpable and infectious. As well as 'The Fox' they performed 'Light The Candles', a song that is particularly poignant at this time:
"Light a candle in the dark for those who must flee
Light seven billion candles
For peace."
The children sang so beautifully that some listeners were moved to tears.
Altogether it was an uplifting and heart-warming event, full of energy. The audience, directed with his usual aplomb by Jeff Borradaille, who asked them to do fairly silly things throughout the evening, spontaneously rose to their feet to join in the final en-masse number 'You're not Alone.'
And then came a surprise 'flash mob' moment in which BMS joined the Renaissance Singers in a rendition of Handel's 'Hallelujah' Chorus; this stopped quite a few of the audience in their tracks as they were leaving and raised applause.
For members of BMS who took part it was clearly a memorable evening:
'BMS were placed central stage which, when it came to the signed songs was slightly embarrassing! However, guided faultlessly by Gill Fourie, we were able to perform the songs and even enjoy the experience.'
'A very jolly evening…'
'Top moment for me was coming off stage after the 'Hallelujah' and some of the children came out of their dressing room and applauded us back-stage. That's a moment that will stay with me – a meeting of the generations and they appreciated what we do.'
Huge thanks must go to Gill Fourie who organised this event and to the music outreach team. The evening was a real showcase of the musical talent in our area, showing the diversity of local music making. There was a very special atmosphere of unity and happiness – more please!
END OF SEASON MEAL JUNE 26TH 2017
Last Monday members of the choir gathered to celebrate the end of a satisfying season with a meal at Tigi's. A slight hitch in the number of pheasants available was soon resolved and the free garlic bread was much appreciated. A good time was had by all; an excellent way to finish the season. Thanks to Margaret Crane for organising it.