Farewell to Tom Newall
June 25, 2018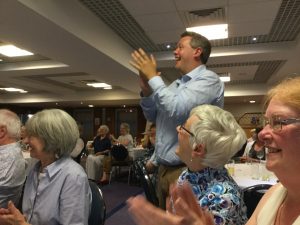 The time has come for another season of music making to come to an end with the usual party time, but this season there was a big farewell to be included. Our wonderful conductor of five and a half years, Tom Newall, was leaving us. So there was a considerable element of sadness as we said "Goodbye!". It has been such a joy and privilege to have sung with him and we shall miss him.
About 90 members and friends had an evening at Ewood Park, reliving such great concerts, happy rehearsals and recalling many individual memories. There was some fun in house entertainment provided by people within the choir, much laughter, speeches, gift giving and a final stirring rendition of the Hallelujah chorus conducted by Tom Certainly an evening to remember.
                                                                                                                                   Margaret McAllester
Summer Concert
June 24, 2018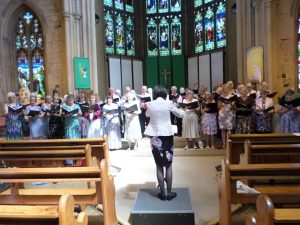 This year's summer concert at Pleasington Priory was conducted by Helen Harrison with Joy Fielding accompanying on the piano and Mathew Thomas on the organ. The concert featured Elgar's From the Bavarian Highlands, together with some other popular classics – Haydn's The Heavens are Telling, Mozart's Ave Verum Corpus, the Vivaldi Gloria, and Handel's Zadok the Priest. In addition to singing with the choir, Leo Fulwell showed his musical versatility, playing two solo pieces – Philip Sparkle's Little Overture on euphonium and Gary Ryan's Birds Flew Over the Spire on the guitar. The concert was followed by afternoon tea in the Butlers Arms.
Blackburn Festival of Voice
June 21, 2018

As in previous years, this year's Blackburn Festival of Voice was an excellent evening of music across the generations. Blackburn Music Society joined with Blackburn and Darwen Brass Band, Blackburn People's Choir, Blackburn Cathedral Choristers, the Renaissance Singers and seven primary school to provide a delightful evening of musical entertainment in King George's Hall.
Belshazzar's Feast
May 12, 2018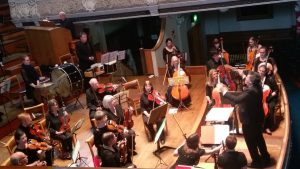 The evening's piece de resistance, Belshazzar's Feast, was eighteen months in the planning. For this mammoth composition, the choirs of Blackburn Music Society and Bolton Catholic Musical and Choral Society, augmented by members of other Choral Societies, occupied each side of the circle. The orchestra was joined by two off-stage six-piece brass bands, each comprising three trumpets, two trombones and a tuba. Again, Newall familiarised the audience with technicalities of the densely textured score; for example, initially playing the jazz elements 'under tempo' to demonstrate accentual stresses, and his amusing direction to play (and sing) this section 'from the hips', rather than from the score.
Osbert Sitwell's libretto, based on biblical texts; Psalm 137 and the Books of Daniel and of Revelations, is narrated by the 'anchor' baritone soloist. Briefly, exiled Jews are subjugated by the Babylonian King, Belshazzar, who holds a feast at which he drinks from sacred Jewish vessels, whereupon a message of his impending doom appears upon a wall. Belshazzar dies, Babylon falls and the Jews are freed
Belshazzar's Feast is challenging for orchestra and chorus alike. Walton felt that the great conductor, Malcolm Sargent, set the tempo perhaps a little slowly for the debut performance in Leeds, (1931). The same accusation could not be levelled at Newall; this performance, although brisk, was nonetheless well-modulated. All sections of the B.S.O. responded supremely to the richly orchestrated score, with its alternately elegiac passages, jagged rhythms, discords and jazz motifs. The sonorous strings, woodwind cadenzas, brass fanfares and percussion heralding 'Praise Ye', the eerie handling of the 'Writing on the Wall' motif and subsequent sense of 'otherworldliness' accompanying 'The trumpeters and drums are silent' were particularly notable for the reviewer.
During the cantata's ten delineated, yet continuous sections, the choir have passages when they are silent, and in that the vocal score bears little resemblance to what happens in the orchestra, a highly competent conductor is needed to give good entry leads. During the entire performance, I detected neither ragged entries nor awkward segues. Another, all too rare, and much appreciated feature, was Louis Hurst's and the choral singers' crystalline clarity of diction throughout.
The final recapitulation of 'Then sing aloud to God our strength' with full orchestral and majestic organ accompaniment rightly elicited thunderous applause from an enthusiastic audience. I last heard the Hallé orchestra and choir perform this cantata several years ago, and in the weeks preceding this performance, 'swatted-up' on several recordings, including Slatkin's excellent version with the LPO and Thomas Allan. On Saturday evening, Newall's version, with the BSO, under the capable leadership of Anita Levy, the incomparable Louis Hurst, BMS and BCMCS augmented by members of SCS, was equal, if not superior to, that recording. Eighteen months in the planning, and approximately 35 minutes of truly outstanding music making.
                                                                                                                                                Dr Stella Pye
(Dr Pye's full concert review is available here)
John Rutter Singing Day
May 8, 2018
A number of choir members attended the workshop arranged by the Association of British Choral Directors (ABCD) which was led by John Rutter. It was a busy event and in total there were about 300 people in attendance. The workshop was held at Fulwod Methodist church which proved to be an excellent venue. The church ladies kept us well hydrated with hot and cold beverages.
All singing materials were provided on the day and we practiced and then sang a number of his well known works as well as some new and as yet unpublished pieces. Mr Rutter has an excellent sense of humour and we were kept entertained throughout the day by a number of vignettes about both the words and music, these proved informative and entertaining.
This workshop was excellent with four and a half hours tutoring provided by Mr Rutter. At a cost of £18 pounds it was good value for money and great fun .
                                                                                                      Anne Asher
Musical Director Appointment
May 1, 2018

We are very pleased to announce that Abi Kitching has been appointed as the new Musical Director of Blackburn Music Society with effect from September 2018. She will be the sixth Musical Director of the Society. Abi graduated with a first class honours music degree from the University of Manchester in 2017. During her time at university, she was Musical Director of chamber choir Ad Solem, and a student conductor of the Manchester Chorus and The Cosmo Singers. In the past year, she has been Assistant Conductor of the Royal Scottish National Orchestra Chorus after being awarded the Alexander Gibson Memorial Fellowship. Abi currently works with a number of choirs and is also an active soprano and regularly performs, broadcasts and records with various choirs.
At the same time as we are welcoming Abi we will be saying "Goodbye." to Tom Newall. Tom joined us in 2013 and since then has made an outstanding contribution to BMS. Tom has made Monday rehearsal nights a pleasure for every choir member, vastly improving the quality of singing and making concert performances enjoyable and exciting for performers and audience members alike. We are grateful to Tom for the many successful and enjoyable concerts he has led us through. Tom is leaving us to pursue other aspects of his career and we wish him well in all of his future endeavours.
Royal Society of Saint George Service
May 1, 2018

On Sunday 29th April, twenty BMS members were kind enough to give up their time to attend the Royal Society of St George Annual Service, which took place at Blackburn Cathedral.
The sun shone and the mood was both celebratory and reverent. The youngsters of our local Scout groups renewed their vows with youthful enthusiasm and the various mayoral dignitaries brought gravitas and shimmering regalia. Uplifting hymns, moving readings including Shakespeare ('Cry, God for Harry, England and St George!') and the Dean's entertaining address made for a heart-warming afternoon.
BMS members were sparse this year but team spirit abounded and we forged a superb rendition of Mozart's Ave Verum, which earned congratulations from our hosts. An afternoon well spent!
Quiz Night
April 17, 2018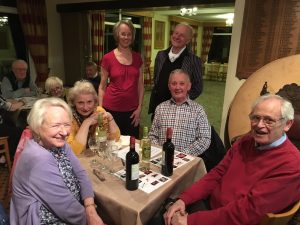 On Tuesday 17th April, members, together with their friends and relatives, put their general knowledge to the test in the Blackburn Music Society Quiz.  The venue was Blackburn Golf Club and the evening included a potato pie supper. Margaret Crane and Mike Waters not only provided a wide ranging set of questions, but also very ably hosted the event and maintained order throughout the evening. A very entertaining and enjoyable evening.
Belshazzar's Feast Workshop
March 11, 2018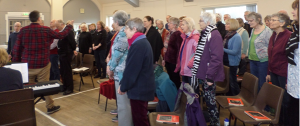 Our other Babylonian number – Chorus of the Hebrew Slaves – is just about the easiest thing in the repertoire. Belshazzar's Feast is just a brute.
Some fifty of us gathered to resume battle with Belshazzar in the unlovely but homely Salesbury Village Hall on 10th March, most of us trailing bruised egos from the previous Monday's rehearsal (think Napoleon's Retreat from Moscow). Expectations were not high. The high pitch of merriment and excitement as we assembled had something of the febrile nature of troops about to go over the top.
Oh we of little faith! Our young Captain, exuding his customary energy and confidence rallied or flagging spirits, cha-stised us for our timidity and had us hurling ourselves at Walton's barbarous ramparts with no thought for the morrow. Of the small clutch of tenors – who by the way strenuously refute (sic) any suggestion of clutching and the like – it may be justly said that never in the field of human endeavour has so much been so wrongly sung, with such gusto, by so few.
Joy's performance was simply superhuman (not to suggest for a moment that a pact with the Devil or anything of that sort has been entered into).
Flawless it was not but those who arrived as the crotchety and quavery strode out with a whiff of victory in the nostrils and a bond of comradeship forged in adversity (think Relief of Mafeking).
What did our eight or so visitors make of us? Surely they can have been in no doubt of our friendliness, enthusiasm and esprit de corps. Their verdict on our musical prowess may be ambivalent but word of the refreshments is surely winging through the north.
O the cakes!                                                                                                                        Mike Waters
                                                                                                                                                                         
Welcome to Joseph Judge
March 5, 2018

Welcome to Joseph Judge who will be taking some of our Belshazzar's Feast rehearsals in March. Joseph has a number of choral conducting jobs including Director of the Hallé Choral Academy. He is also much in demand as a Countertenor and is frequently engaged as an oratorio soloist. We are delighted that he is able to join us.
Come and Discover our History!
February 15, 2018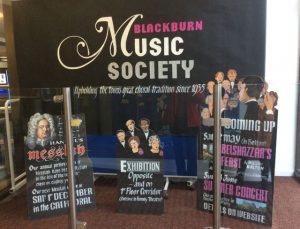 Have you visited the BMS Archive Exhibition in Blackburn Library yet? If not, read on to see what you're missing…
Swathed in my woolly hat and piano scarf, I blew in to see our Archive exhibition yesterday. I stayed for ages, enthralled by the material, especially from times before I joined BMS nearly 60 years ago.
How marvellous to see how, over our history, people have had the confidence to strive for the heights of achievement to the point where such renowned conductors and soloists were happy to bring their talents out of the major cities and sing with an amateur choir from a Lancashire cotton town. I was amazed to see the correspondence with the great Paul Robeson, whom I so wanted to hear.
Mike's stunning display in the foyer really hits the spot in its interest and humour. Thank you, Mike, and thank you to Margaret and her dedicated team who must have devoted endless hours in the presentation of this wonderful exhibition. We must talk to our friends and encourage them or accompany them to enjoy this fabulous portrayal of an enduring part of the history of Blackburn.
Live for ever, BMS!
The Archive Exhibition continues at Blackburn Library until February 28th. Mike Waters' marvellous art-work can be seen on either side of the entrance to the Library and you will find material on the history of the choir on the first floor outside the Hornby Theatre.
The complete archive is on permanent loan to the library and it should be possible to access items on request.
New Year – New Faces and Places!
January 16, 2018

This term's rehearsals have got off to a good start as the choir gets to grips with Elgar's Scenes from the Bavarian Highlands, a charming set of six songs inspired by a holiday the composer and his wife Alice enjoyed in Upper Bavaria in 1894. Each song is a setting of a poem written by Alice, sub-titled with the name of a place they had visited together.
As we shall be performing this piece in our summer concert, during this current month we welcome back Helen Harrison, who will be conducting us in June.
She says it's a pleasure to be working with the choir again and she's looking forward to the concert. A massive Elgar fan, she also said that, having met us during rehearsals of Gerontius, it seems fitting that she is joining us again for this trip through the Highlands!
We have also been delighted to welcome Ed Rugman, who has been accompanying us while Joy has been indisposed. Ed, who lives in Lytham St Annes, studied at the RNCM and was later an Organ Scholar at Blackburn Cathedral. Not only is he adept at the keyboard, but he is also a composer – his work includes documentary music for the BBC – and a conductor who is sought-after in musical theatre. Some of you might have seen Ed in action recently when he conducted a 'Last night of the Proms' concert at Preston Minster in aid of The Rosemere Cancer Foundation.
We are lucky to be able to call on two such talented musicians and we have enjoyed a chance to experience a fresh approach as we begin the new year. Of course we'll also be glad to see Tom and Joy when they return!
Light Up a Life Service
December 8, 2017
Last Monday evening was bitterly cold and the remnants of the earlier snowfall had turned to ice making travel a worry for many.  Even so, Blackburn Cathedral was once again filled to capacity with a congregation ready to celebrate the memory of their loved ones.
Blackburn Music Society had the privilege of supporting the service of carols, adding flourishes of harmony and soaring descant which lifted the usual Christmas melodies to the heavens. Then, as each member of the congregation received a lighted candle, the atmosphere became still as the lights were dimmed and BMS choir, conducted by Tom Newall, offered a moving performance of Morten Lauridsen's Sure on this Shining Night.  The music and the heartfelt words of James Agee's poem created a poignant moment.
Sure on this shining night of star made shadows round,
Kindness must watch for me this side the ground.
The late year lies down the north.
All is healed, all is health.
High summer holds the earth.
Hearts all whole.
Sure on this shining night I weep for wonder wand'ring far alone
Of shadows on the stars.
                                                                                                                James Agee 1934
The choir followed up with Rutter's Angels' Carol, sung with a brightness and aplomb that brought a lighter mood, following which the two massive Christmas trees were officially lit by supporters of East Lancashire Hospice, Allan Poyner and Emma Wharton.
After prayers and blessing by Canon Andrew Hindley, all were charmed by the children of Salesbury CE Primary School who performed That First Christmas Day by Paul Field.  Conducted by Gill Fourie, whom the children clearly adore, they brought touching hope for the future.  They closed with a very accomplished rendition of Carol of the Bells by Peter Wilhousyky (arr Dean Jones) which caused Canon Hindley to query, "How do you remember all those words?" and some BMS members to ponder, "Could we do that?"
Soloist Ella Constantinides followed with a moving performance of For Good by Stephen Schwartz; the words, so clearly delivered by Ella, had many dabbing away tears. Then Josh Hindle stepped in to remind us all of the joy of Christmas with Let it Snow and Have Yourself a Merry Little Christmas.
Conducted in the presence of visiting mayoral dignitaries from Ribble Valley and Blackburn with Darwen, this was a service that brought both smiles and tears. It ended with Sam Hudson leading the congregation into Hark the Herald Angels Sing, with an organ sound that pushed at the rafters and lifted everyone's hearts.
                                                                                                                                                                     Chris Lenaughan
Messiah December 2nd 2017
December 8, 2017
The annual performance by BMS of Handel's Messiah is always popular and last Saturday's concert was no exception – the Cathedral was filled to capacity with an enthusiastic and attentive audience.
An annual occurrence it might be, but the choir's rendering of this well-known work was by no means routine. Under Tom Newall's masterly direction and with the Lancashire Chamber Orchestra playing as always with skill and verve, ably supported by Samuel Hudson on the chamber organ, the choir combined passion with precision; heads were up, diction was crisp as the singers conveyed the drama of the familiar but always moving story with energy and conviction.  So thrilling was it that a member of the orchestra said it made the hairs on the back of her neck stand up.
The performance was made all the more memorable by the contributions of the four exceptional soloists. Soprano Charlotte Hoather, in her first public performance of this work, mesmerised the audience with the beauty of her singing,  Helen Anne Gregory's rendering of the contralto arias was powerful and compelling. and the male soloists were equally impressive: Alexander Grainger brought a freshness and vitality to the tenor solos while baritone Matthew Mannion's arias were supple and expressive.
As the strains of the final amen died away, it seemed as though everyone in that splendid building had been drawn together, united by an experience that for many truly expresses the spirit of Christmas.
While praising this performance, let us not forget the originator of this great work, here celebrated by a member of the choir:
Messiah: Handel With Us
All week he is bound
in orange or blue by his acolytes,
Watkins Shaw, Prout or Burrows.
Tonight he comes with me,
does not remark on the wind, the rain
or the traffic, slips beside me
into the bright hall. None
can see him, not shepherds,
not angels, sopranos nor foundlings
yet he shall purify, for unto us
a composer is given; and he speaks
as if the ink were yet wet
on good will toward men; and
every time, in bar 42, the violins
conspire with the angels,
carry him off,
immortal,
to heaven.
Edmund Dixon
The Night is Dark Autumn Concert 21st October 2017
October 23, 2017
On Saturday a loyal band of music-lovers struggled through gales, rain and flood to reach Westholme School. They had come to hear BMS perform an exciting programme of music by living composers, though at one point it looked as though the evening might be cancelled – there were deep floods in Meins Road – and there was a danger that those who made it through might be marooned for the night!
Nevertheless the concert, conducted with his usual energy by Tom Newall and ably accompanied throughout by Joy Fielding, went ahead, and after singing John Rutter's Look at the World, the choir plunged into Bob Chilcott's A Little Jazz Mass which they performed with an infectious enthusiasm, more than one singer being unable to prevent themselves swinging with the music. No wonder. The beat was ably provided by Trish Ferrain on keyboard and Eden
Longson on drums, while Joy laid down the groove on the piano.
More jazz followed with a set played by Steve Berry on bass and his young protégé Cubby Howard giving an astonishing performance of jazz cello. A young man who is certain to go far. He certainly won over the audience – at least one listener who admitted not really liking jazz was very impressed with this duo.
The first half of the concert concluded with a brief reminder of The Vicar of Dibley, evoked by the choir's rendering of Howard Goodall's Psalm 23.
After the interval the choir sang Rutter's For the Beauty of The Earth and the evening finished with Goodall's Requiem Eternal Light, in which the words of the Latin Mass are interspersed with various poems in English. Given that at times the wind could be heard threatening to take the roof off the building, it was appropriate that 'Lead Kindly Light' formed part of the Requiem, and the choir rendered 'The night is dark and I am far from home' with particular feeling!
The solos, which comprised the poems for the most part, were sang very movingly by soprano Heather Heighway and tenor Dominic Stewart. An unexpected delight was that, in some movements, students from St Wilfrid's Academy dance company A.D.Versity performed pieces that they themselves had created with their teacher.
One member of the audience summed it up thus: 'The combination of the three elements – choir, soloists and dancers – was wonderful.'
In fact the whole evening seemed to go down well with its audience some of whom commented that it was 'refreshingly different' and 'worth struggling through the storm for'. Given the atrocious weather that evening, that is praise indeed.