On a showery Sunday afternoon BMS were proud to open a programme of summer events organised by East Lancashire Hospice. The concert took place in a splendid marquee in the grounds of the hospice and despite the drizzle, every seat was occupied.
The choir, conducted by Tom Newall and ably accompanied by Joy Fielding, presented a mixed programme, beginning with a medley of popular songs from musicals, Breezing Down Broadway. This went with a swing – the choir was clearly enjoying themselves and from their smiles, so was the audience.
A change of mood was signalled by 'Va Pensiero' from Verdi's Nabucco, which the choir sang with conviction in impressive Italian accents. After that came the rousing 'March of the Toreadors' from Bizet's Carmen, followed by the more reflective 'Benedictus' from Karl Jenkins' The Armed Man. Both in this and 'Ave Verum' the sustained long lines were beautiful.
A medley from Alan Meken's Beauty and the Beast was performed with panache and the first half finished with 'Over the Rainbow'.
There followed the interval where everyone headed for the table packed with delicious-looking cakes provided by the choir. And fittingly, the sun came out and people were able to enjoy their refreshments in the lovely garden.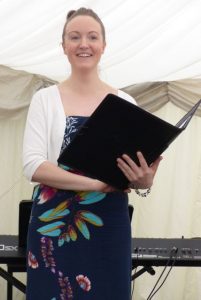 The second half began with 'Laughing Song' from Strauss's Die Fledermaus in which BMS member Laura Lenaughan's performance of Adele's aria was superbly expressive – she inhabited the role perfectly. Rutter's 'For the Beauty of the Earth' came next followed by a spririted rendering of 'Sit Down You're Rockin' the Boat' from Guys and Dolls, in which the choir's delivery of the catchy rhythm got the audience's feet tapping.
Choir member Tom Young then gave us Ireland's 'Sea Fever' and German's rousing 'Yeomen of England' in his fine bass voice and the concert finished on another note of hope with the choir singing 'Climb Every Mountain' from The Sound of Music.
It is not easy to carry off such a mixed programme with its changes of style and mood, but BMS managed it well for the most part and their enjoyment clearly communicated itself. Some of the audience, who were there to support the Hospice as much as anything, had not heard the choir before, but their comments showed that they had clearly appreciated the music: 'Lovely', 'Beautiful', 'I really enjoyed it'.
As well as providing an excellent afternoon's entertainment, BMS were very glad to be supporting such vital work, donating all proceeds to the East Lancashire Hospice's  funds.
Although it has to be said that not every member of the audience found the music stimulating!