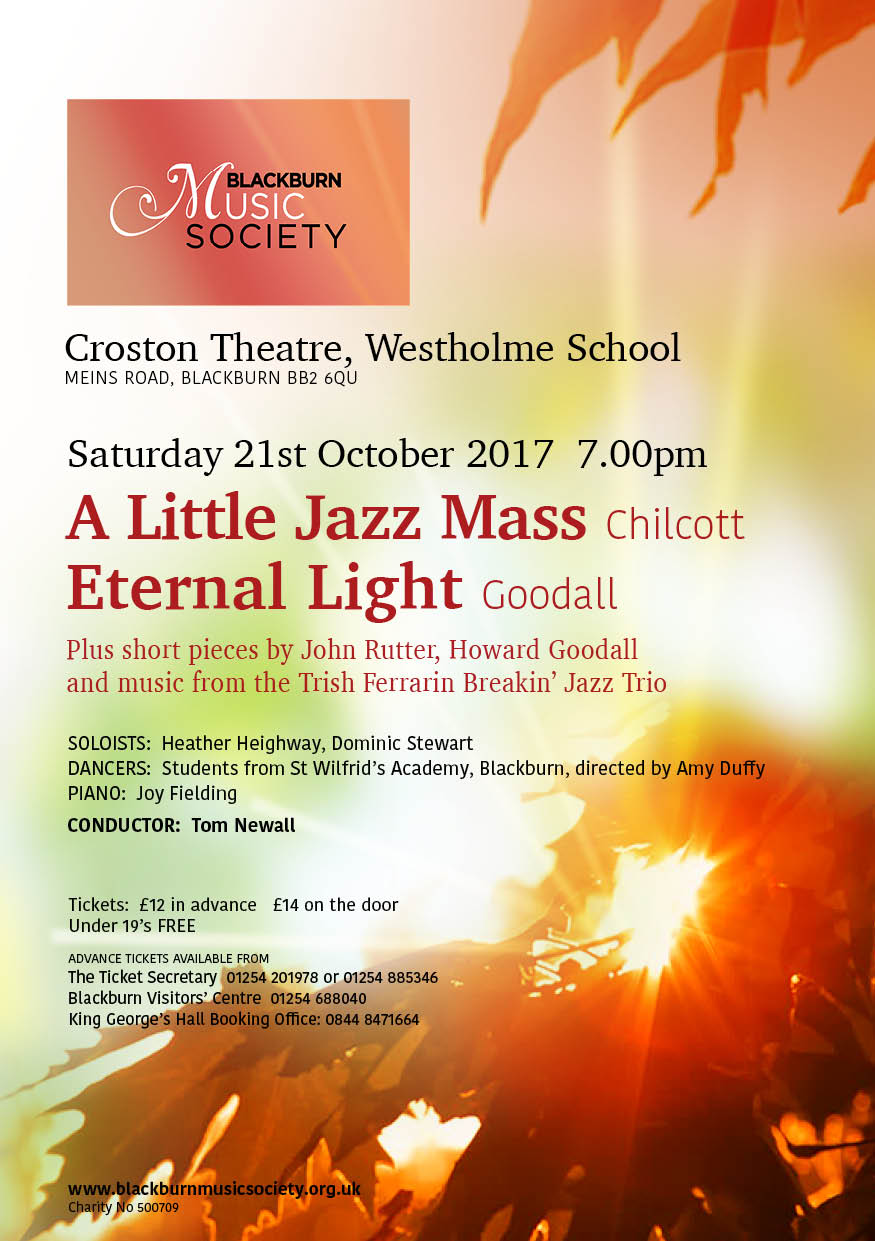 Date/Time
Date(s) - Saturday 21st October 2017
7:00 pm - 9:00 pm
Location
The Croston Theatre, Westholme Senior School
Programme
Look at the World – John Rutter (b 1945)
A Little Jazz Mass – Bob Chilcott (b 1955)
Jazz interlude – Cubby Howard & Steve Berry
Psalm 23 – Howard Goodall (b 1958)
Interval
For the Beauty of the Earth – John Rutter
Eternal Light – Howard Goodall  with dancers from St. Wilfrid's Academy Blackburn
Heather Heighway Soprano
Heather Heighway graduated from Birmingham Conservatoire with First Class Honours in 2013 and now studies in London with Elizabeth Ritchie. Her opera work includes Rose Maurrant in Street Scene by Kurt Weill, Susanna in Le Nozze Di Figaro by Mozart, Adele in Die Fledermaus by Strauss, Valencienne in The Merry Widow by Lehar, Olympia in The Tales of Hoffman by Offenbach, Tatyana in Eugene Onegin by Tchaikovsky, Micaela in Carmen by Bizet, Gilda in Rigoletto by Verdi,  Zerlina and Donna Elvira in Don Giovanni by Mozart, Despina and Fiordiligi in Cosi fan Tutte by Mozart and 1st Lady in Die Zauberflöte by Mozart.
Heather has won many prizes across the North West including a Recital Prize at the Mrs Sunderland Music Festival in Huddersfield and she was the Chester Young Musician of the year in 2011. Whilst at the Conservatoire Heather won The Reginald Vincent Lieder Prize, second place in The Edwards Brooks English Song Prize and was a finalist in the Mario Lanza Opera Prize. She was also awarded the Ella Cheshire Scholarship and The Gordon Clinton English Song Prize. Heather won both the district and regional NODA awards for her portrayal of Tatyana in Eugene Onegin in 2017. Her solo choral works include: In Terra Pax by Finzi, Faure's Requiem, Handel's Messiah, Carmina Burana by Carl Orff, Schubert's Mass in G Major, Mozart's Great Mass in C Minor and Bach's Saint John Passion.
Dominic Stewart Tenor
Dominic Stewart graduated from the Royal Northern College of Music in 2015 where he studied with Peter Wilson. While at the RNCM, Dominic sang the roles of St. Brioche in The Merry Widow and Paul in Company (RNCM Productions). In scenes, he sang Dormont in La Scala di Seta, Eisenstein in Die Fledermaus, Schmidt inWerther and Mitch in A Streetcar Named Desire. Roles performed include The Defendant in Trial by Jury (Opera on Location) and Romeo Coates in Malcolm Williamson's English Eccentrics (British Youth Opera). He has covered the role of Nemorino (L'elisir d'amore) for Opra Cymru. Dominic's Oratorio repertoire as a soloist has included multiple performances of Handel's Messiah, Beethoven's Mass in C (Southwell Minster) and Mozart's Requiem and Coronation Mass in C with Fleetwood and District Choral Society.
We are very pleased to welcome jazz musicians Trish Ferrarin on keyboard and Eden Longson on drums, who will accompany and animate the choir in Bob Chilcott's Little Jazz Mass. We welcome too cello and bass jazz duo Cubby Howard and eminent musician and teacher Steve Berry to play jazz standards that will surprise and delight us all.
Trish Ferrarin – Jazz Keyboard
Trish trained at Leeds College of Music and then went on to play piano with various bands in the North West. She taught at Leeds College of Music and Salford College for several years and is now teaching in schools in Blackburn. Trish is currently the President of the Ribble Valley Jazz Festival and works at promoting jazz music with younger students.
Eden Longson – Drummer
Eden is a professional drummer, composer, and conductor from Stoke-on-Trent. Since graduating from the University of Liverpool, Eden has gone on to perform with the likes of Ciaran Algar, Bronnie, and the AP Stefans Quintet, as well as providing music for various student films. Eden has been in love with Jazz from an early age and has played/conducted with various big bands and smaller jazz outfits.
Cubby Howard – Jazz Cello
Cubby Howard is a fourteen year old cellist, studying jazz and classical cello as well as jazz piano at Chetham's School of Music in Manchester. He began playing the cello and piano when he was five years old, studying the piano with Joy Fielding. He now studies jazz cello with Steve Berry, classical cello with David Smith and jazz piano with Les Chisnall. Cubby was one of the winners of the annual concerto competition at
Chetham's in 2017, playing a Stamitz cello concerto in a concert in Grappenhall. His chamber quartet has won the school's chamber music competition for the past two consecutive years. Cubby hopes to pursue a career as a jazz cellist. He is the pianist in the Greater Manchester Jazz Orchestra, and enjoyed participating in the National Youth Jazz Collective in the summer of 2017. Cubby is grateful to play a cello generously loaned by the Benslow Musical Trust.
Steve Berry – Double Bass
Steve Berry is a professional jazz musician, arranger and
composer. He is a Teaching Fellow at LIPA, as well as the Royal Northern College of Music, and Chetham's School of Music.
The students performing tonight are from St Wilfrid's C of E Academy and range from 14 – 17 years old. All of the students are involved in GCSE or A Level Dance and are part of the Academy's youth dance company 'A.D.Versity'. The pieces have been created by themselves and their dance teacher and follow the mood and tempo of the music. This is a new experience for the students and they are looking forward to performing with Blackburn Music Society. The dancers taking part this evening are Lucy Baines, Megan Charnock, Rebecca Clark, Emily Coull, Amy Irving, Grace Nunns, Lexie Orme, Olivia Prescott, Megan Rigby, Kieran Shorrock, Bethany Spence, Lydia Wilcock.